Volunteers Make Everything possible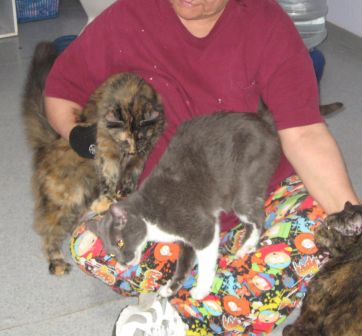 With an all-volunteer Board of Directors, CARE truly recognizes and deeply appreciates the commitment of time and energy of our volunteers. Volunteers help us raise funds, they enrich the lives of our animals, and they help spread the word about the value and viability of the sanctuary movement as a means to give a great quality of life to orphaned animals.
While we are based in the Los Angeles area, and our sanctuary is located in northern Los Angeles county, volunteers from all over the world can help us by holding fundraisers to help our sanctuary as well as by supporting responsible sanctuaries in general. Locally, we need helping hands on a number of levels.
Please help us continue to provide a great quality of life for orphaned pets! It is the commitment and generous support of individuals like you that makes it all possible.
How You Can Volunteer
Our strictly no-kill, cage-less sanctuary is located in the high desert approximately an hour north of Los Angeles. If the prospect of such a drive is not daunting, and you are 18* or older, we would love to have you come up to help out!
*If you aren't 18, don't despair! You can help in so many other ways - please read on!
The Sanctuary
Visit our fur-folk

and give them some special lovin', groomin' and treats
If you have a truck, we could really use help to

pick up periodic donations from the South Bay area

and deliver to a board member's house in the San Fernando Valley or up to the Sanctuary

Help with sanctuary repairs

. If you are a licensed contractor, oh please come get to know us. Our future has plans which may need your help!

Pick up/return sanctuary pets

for visit to our Los Angeles veterinarian

Visit the sanctuary and sit down with individual cats and dogs.

Spend some time with just a single one, get to know his or her name, get to know them a little and take plenty of pictures. Then send to us so that we can use the pics and bios for future newsletters and other internet postings.
Virtually (any age can help here!)
Link to us using the Social Media links in the left side panel and follow and like us and share with all your friends!
If you sell or buy on EBay, designate C.A.R.E. as your beneficiary to receive a percentage of your proceeds or a donation in addition to your purchase via Pay Pal Giving Fund fka: Mission fish . Click this link to go directly to our page there!
If you shop at Ralph's/Kroger, sign up there to help us every time you shop and use your store card. Click the link above to log on or register. Go to "My Account" and scroll down until you see "Community Rewards" towards the bottom. Click to add or edit your organization using our code #82984. Then, every time you use that piece of plastic, C.A.R.E. will receive a tiny little donation but, you know, they do add up!
Fund Raising (and any age can help here, too!)
Collect food, blankets, toys
Tabling at local stores to develop new supporters and prospective adopters
We need cage size cat litter pans, new heating pads, hot water bottles, Gerber's Chicken baby food
If you're under 18 (or not), you can make C.A.R.E. a special project at school or a group - have a drive to collect food, toys, blankets; have a yard sale to benefit C.A.R.E.; organize a rummage sale at your church or group and hand out fliers about C.A.R.E. We can send you a Word document suitable for printing.
Have a food drive at your school, church, social group, whatever - canned dog and cat food is what we are desperately in need of!
Anything else you can dream up and develop the volunteer base to help with including:
Grant prospecting
Event development
Volunteer coordination
Contact Us!
If you are interested in helping, please respond by email to volunteer@care4pets.org if you have any questions or to let us know how you would like to help.
DON'T FORGET....EVEN IF THE SANCTUARY IS A FUR PIECE OR YOUR AGE ISN'T QUITE HIGH ENOUGH....JOIN US VIRTUALLY VIA THE INTERNET TO HELP SUPPORT THE CAUSE!